Death in Persia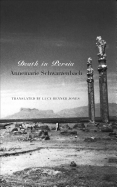 "This book will bring little joy to the reader," Annemarie Schwarzenbach (1908-1942) warns on the first page of the posthumously published Death in Persia, but she's dead wrong. The exhilaration of her writing far outweighs the desperate sadness of her vision. Schwarzenbach was a Swiss lesbian who dressed like a man, quarreled with her wealthy, Nazi-supporting family, married a homosexual French photographer, became a morphine addict, befriended the suicidal son of Thomas Mann, rejected the love of young Carson McCullers and ultimately died after falling off a bicycle at age 34.
This collection of fragments chronicles her four trips to Persia between 1933 and 1939, beginning a few weeks after the Shah gave women the right to go unveiled. Wrestling with mysterious, debilitating illnesses, fighting off loneliness and depression, struggling through the vast, hostile landscape--not to mention several conversations with an angel--it isn't long before Schwarzenbach is running out of strength and wishing to die in the solitude of the Persian plains.
Only the slim thread of hope generated by her secret passion for the lovely Jalé threatens to interrupt the hopelessness of the desert, but Jalé's father nips it in the bud, and the loss of her lover removes the narrator's last real reason for living.
This is travel writing on the edge of hallucination, prose poems that are half-Kerouac and half-Rimbaud, elliptical, lyrical sketches of a Persia lost forever. Her writing sweeps past the solitary columns of Persepolis, through sand-swept cemeteries and ruins, haunted by the sorrowful clanging of caravan bells on passing camels. --Nick DiMartino, Nick's Picks, University Book Store, Seattle