Meet Me at Emotional Baggage Claim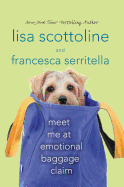 For mystery novelist Lisa Scottoline and her daughter, Francesca Serritella, every odd, humorous or touching incident is worth writing down (and calling each other about). In Meet Me at Emotional Baggage Claim, the third book of essays collected from their weekly Philadelphia Inquirer column, they discuss dating, fashion, life in the country with assorted pets (Lisa) and in tiny New York apartments (Francesca), and the ins and outs of their loving but complicated relationship. Lisa's octogenarian mother Mary--half deaf, sharp-tongued and feisty--also makes frequent appearances; estrogen-induced arguments are common, but fortunately all three women are as warmhearted as they are sarcastic.
Lisa, now an empty nester, worries constantly about Francesca in the big city. Is her building secure enough? Will she find a nice guy? Will she remember to bring a sweater, even in the summer? Francesca, for her part, struggles with the vagaries of online shopping, starting her career and growing mushrooms (a gift from Lisa) in her apartment. And Mother Mary drives Lisa nuts by watching TV at FULL VOLUME, but Francesca deploys her skills as the Grandmother Whisperer to keep the peace.
This collection is a mixed bag: some essays are truly hilarious, while others are bogged down by mundane details and Lisa's constant wisecracks about her two divorces. But the brief essays provide a quick shot of humor, and the honest musings on the mother-daughter bond will resonate with many women. --Katie Noah Gibson, blogger at Cakes, Tea and Dreams