Saul Steinberg: A Biography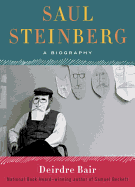 Many people may not know Saul Steinberg by name. Show them a few of his thousands of New Yorker illustrations, and they might know who you're talking about. But then mention the work that most embodied his irony and sketchbook way of storytelling--his endlessly reproduced and adapted New Yorker cover from 1976 "View of the World from 9th Avenue"--and everyone nods and says "Oh, that guy."
The accomplished biographer Deirdre Bair (Samuel Beckett, Anaïs Nin) admirably fleshes out the complicated life of a man who brought smiles, puzzling looks and outright laughs to so many. Saul Steinberg was an immigrant Romanian with a tyrannical mother who fell in love with his adopted United States. Although an inveterate traveler, he was considered the quintessential New York City resident. He leveraged a modest annual New Yorker stipend into a significant fortune by preserving the rights to his art and carefully investing the proceeds from reprints and commercial commissions. A lifetime philanderer, he nonetheless remained attached to two women for decades and financially supported them both after separation. Shy and introverted, Steinberg became a devoted and generous friend to everyone from Ionesco to Ian Frazier and conversationally dominated the frequent dinner parties in his robust social calendar.
With access to Steinberg's friends, letters and personal archives, Bair is able to weave together the subtleties of the contradictory man behind the art, a tribute to the life of an artist who defined the ambience of the New Yorker for nearly five decades. --Bruce Jacobs, founding partner, Watermark Books & Cafe, Wichita, Kan.