The Light of Amsterdam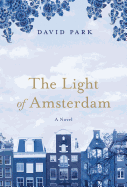 In The Light of Amsterdam, David Park (The Truth Commissioner) puts three families on the same flight from Ireland to Amsterdam. They have different reasons for making the trip, but they all bring the problems of home with them.
A father, with a ticket to a Bob Dylan concert, tries to recapture the person he was when he was an art student in Amsterdam, but his ex-wife is going on a trip with her new man, so he has to bring his sullen and uncommunicative 17-year-old son along with him.
A mother is invited to go on a "hen party" with her daughter and her friends. She is reluctant because it is costly and she isn't interested in drinking and carousing--but she will do anything for her daughter, which she proves before story's end.
A 60-something couple want to get away from business and their everyday lives, the husband treating his wife to a birthday weekend. She is a bundle of insecurities because he gave her a gym membership as well. Does he have a younger woman? Is she beginning to fade in his eyes? How can she make his stay more pleasant? Her "solution" brings into sharp relief the disparity between his attitude toward their marriage and hers.
Park has these characters occasionally cross paths as they make their separate ways through Amsterdam--sometimes just a glance, other times sharing a more meaningful exchange. They will all leave significantly changed in just a few days, knowing more about themselves than when they left. --Valerie Ryan, Cannon Beach Book Company, Ore.