Through the Window: Seventeen Essays and a Short Story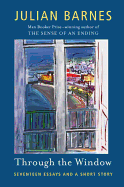 For readerly readers, Through the Window, a collection of trenchant essays by Booker Prize-winner Julian Barnes (The Sense of an Ending) will be a joy. In the preface, Barnes ruminates on the art itself--reading, that is--and even chimes in on the great 21st-century debate: "I have no Luddite prejudice against new technology, it's just that books look as if they contain knowledge, while e-readers look as if they contain information."
In spirited, insightful essays, Barnes speaks well of his fellow British writers: Penelope Fitzgerald, Orwell, Kipling, Arthur Hugh Clough and (on more than one occasion) Ford Madox Ford. The Good Soldier, Ford's masterpiece, "is a novel which constantly asks how to tell a story, which pretends to fail at narrative while richly succeeding," Barnes observes, then comments, "It needs the Good Reader."
He also writes about foreigners, including some Americans. Many of his French subjects are surprising--Chamfort, Merimee, Feneon, Houellebecq--but he also touches upon Flaubert and the impossibility of translating Madame Bovary. Then it's on to Edith Wharton, the "clever, witty" Lorrie Moore, an "Homage to Hemingway" (that's the short story) and a remembrance for John Updike. On hearing of Updike's death, Barnes writes, he had a "feeling of disappointment that Stockholm had never given him the nod." He admits, like many, to not reading all Updike's books, but he honors him with a "reader's raised glass," a toast to his prodigious output and to, above all, the Rabbit Quartet, which considered as a whole, is "still the greatest postwar American novel." --Tom Lavoie, former publisher