Hunger Mountain: A Field Guide to Mind and Landscape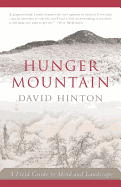 For fans of classical Chinese poetry in translation, there is no greater feeling of joy than picking up a volume and seeing the translator is David Hinton. Now Hinton, renowned for his readable, award-winning translations, has written his own slim volume. Hunger Mountain carries many of the hallmarks of the works he has spent his professional life bringing to a wider public: lucidity, a deep and life-affirming world view, a magician's way with words and, yes, wisdom.
Hunger Mountain is, as the name implies, a study of a mountain near Hinton's Vermont home. It is also the story of Hinton's relationship to that landscape as he walks the environs around it through the seasons. Each chapter is a mini-essay--profound, observational nature writing with a consciousness that processes nature and plunges into its depths to discover where consciousness and earth meet to become a distinctly third entity. Hinton's vast knowledge of the Chinese language and Chinese literature is apparent in each essay as well; he meditates on particular symbols then relates them back to the subject of the current essay with the ease of a jazz soloist. Excerpts from classical Chinese poets like Tu Fu and Meng Hao-Jan abound, and Hinton's own writing pleases the ear, allusive and subtle in its effects. When the essays transform from prose into the author's own poetry, the words resemble nothing less than a bird taking wing.
Hunger Mountain is a wonderful book for those who love Chinese culture, language, landscape and the nature of human consciousness. --Donald Powell, freelance writer