A Possible Life: A Novel in Five Parts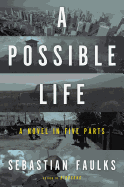 Sebastian Faulks's A Possible Life is five loosely connected stories, in which connection--however fleeting--is the point.
Geoffrey, a British schoolteacher taken prisoner in Poland during World War II, keeps his frightening reality at bay by imagining himself on a sunny English cricket pitch. When he is forced to shovel half-cremated bodies of babies, all such images disappear forever. His betrayal by the woman he loves adds to his despair. Putting his life back together begins with a simple act of kindness from a former student.
Billy is sent to the workhouse when he is seven years old in 1859 England. He marries a woman who is subsequently institutionalized, and her sister becomes a "wife" to him. They bear their impossibly difficult lives with dignity, taking solace in each other.
Elena's story forms the centerpiece of the book. She is an Italian scientist in 2029 who discovers that "the defining quality of human consciousness... was not an entity, but a connection... a voluntary self-awareness allowing its possessors to infer thought processes in others."
Jeanne, an ignorant peasant girl in 1822 France, is read to from the Bible by her Master, and comes to understand parables that help her cope with her life. Finally, Anya is a Joan Baez type--a girl with a guitar and a stunning voice--in 1970s New York. She connects only with those things that give meaning to her life so she can turn them into songs.
These five tales are provocative meditations on love, loss, evil and what it means to be human, beautifully rendered by a prose master. --Valerie Ryan, Cannon Beach Book Company, Ore.