Charles Dickens in Love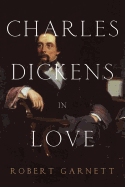 In Robert Garnett's in-depth Charles Dickens in Love, there are very few pages about the great writer's wife of 22 years, Catherine. He sent her packing in 1858 with one child, Charles Jr. (though she bore him 10), and any thought of a divorce was unthinkable. Catherine never saw him again; Garnett quotes a friend of hers as saying: "That man is a brute."
Dickens didn't love Catherine; he married her for companionship. He really loved Maria Beadnell, whom he met in 1830 when he was just 18--energetic, ambitious and poor, like young Ebenezer Scrooge. (She's Dora in David Copperfield.) Her parents quickly put an end to it; Dickens was heartbroken. She "seized his imagination early," Garnett writes, "and for years no other woman loosened her grip."
Then Mary Hogarth became part of his life. She was Catherine's 17-year-old sister who moved into the bustling Dickens household in 1837. Dickens was working on Oliver Twist at the time--she's Rose. That same year, she was stricken with an illness and died in Dickens's arms. He worshipped her memory for the rest of his life: "I solemnly believe that so perfect a creature never breathed."
His final love was the 18-year-old actress Ellen Ternan, whom he met in 1857 when she was acting in a Dickens play. She's the reason Catherine had to go, but their relationship had to be kept secret.
Garnett's well-told tale clearly shows how profoundly these women influenced Dickens's characters and inspired his writings. Losing Maria and Mary early on helped establish "his idea of the feminine." Women "became the soul of his novels," even if, as George Orwell caustically put it, these saints of his religion were really "legless angels." --Tom Lavoie, former publisher