City of Rivers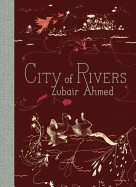 Zubair Ahmed was a 17-year-old professional video gamer in Bangladesh when his family moved to Texas in 2005. His improbable journey continued at Stanford, where he studied mechanical engineering and worked on the university's famous solar car team. All the while, he wrote poems that revisited the monsoon-drowned streets of his home city and his family's experiences during the liberation of Bangladesh from Pakistan in 1971. Ahmed's first poetry collection, City of Rivers, reveals a fresh young voice torn between the rain-soaked streets of Dhaka and the flash-flooded Texas of Joe Pool Lake, where, he observes:
"In nights of rain
The lake begs for more water.
I wish the lake knew
It was man-made."
The juxtaposition of densely urban Dhaka and the wide open, car-centric landscape of modern America runs throughout this fine collection, as Ahmed searches for the links in his itinerant life. One pillar supporting his search is his brother, who, he notes:
"became a mountain, always closer
To the sky than me,
Always large in the distance
Growing larger as I grew nearer.
I am wearing his shirt--
It hangs loose."
Although there may be the gamin heart of a video gamer and techie in this young poet, there is also a wise observer of the world wherever he finds himself in it, even in the cold weather found in the poem "Second Home":
"It snowed four days ago.
I don't feel as cold
As I am supposed to.
I almost believe
I'm as strong as I need to be."
With such a startling first collection of poems, let's hope Ahmed is as strong as he needs to be in order to give us more. --Bruce Jacobs, founding partner, Watermark Books & Cafe, Wichita, Kan.