Further Reading: Gooseberry Patch Cookbooks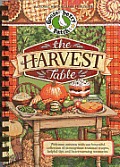 For a peripatetic population pining for home, Gooseberry Patch cookbooks are the next-best thing to frequent flier miles to satisfy the hunger for Grandma's pies, Mom's casseroles and Dad's garden harvest.
Two central Ohio homemakers started Gooseberry Patch in 1984, and they've compiled tested recipes from hundreds of contributors (plus anecdotes and stories) into themed cookbooks. JoAnn and Vickie's Midwestern roots are apparent and add to the books' charm.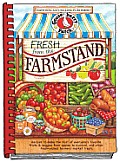 "Dukabor Soup" in fresh Fresh from the Farmstand: Recipes to Make the Most of Everyone's Favorite Fruits & Veggies from Apples to Zucchini, and Other Fresh Picked Farmers' Market Treats began as a recipe from a Canadian contributor's Ukrainian neighbor; she added Italian sausage to satisfy her husband's penchant for spice. The Harvest Table: Welcome Autumn with Our Bountiful Collection of Scrumptious Seasonal Recipes, Helpful Tips and Heartwarming Memories has a pumpkin spice muffin recipe from Keene, N.H., a town that holds the lit jack-o-lantern record (29,381 for 2012). The mini-memoirs in these cookbooks are as satisfying as the recipes!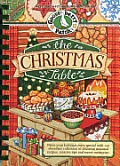 The Christmas Table: Make Your Holidays Extra Special with Our Abundant Collection of Delicious Seasonal Recipes, Creative Tips and Sweet Memories, divided into "events" sections (Cozy Christmas Brunch, Caroling-Party Supper, Sweet Treats to Share) includes time-saving tips that harried hostesses will appreciate.
Even the food aficionado whose holiday table offers sophisticated fare gleaned from glossy, high-end cookbooks will enjoy the comforting, old-fashioned appeal of Gooseberry Patch editions and the heartfelt stories of their contributors. --Cheryl Krocker McKeon, bookseller