Sleep Like a Tiger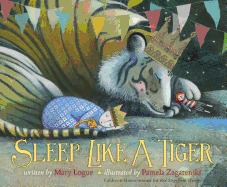 Caldecott Honor artist Pamela Zagarenski (Red Sings from Treetops) envisions a dreamlike world for debut author Mary Logue's imaginative twist on a bedtime tale.
"Once there was a little girl who didn't want to go to sleep even though the sun had gone away." Despite the familiar opening, children will detect this is no ordinary story. A girl in a crown clutching a stuffed tiger travels by skateboard under a full moon, while a tiger on wheels (also crowned) heads in the opposite direction carrying a giant orange (or is it a sun?) on its back. At home, though the girl says, "I'm not sleepy," her parents tell her to put on her pajamas and brush her teeth. "Does everything in the world go to sleep?" she wonders. Her parents offer examples--their dog, "curled up in a ball on the couch" and their cat "fast asleep... [in] the warmest spot in the house."
Round shapes and other visual motifs suggest movement even when the child is in bed, as if the gears of her brain are in motion. She asks about whales and snails, then cites a tiger in the jungle as "an animal that sleeps a lot." Zagarenski's lush accompanying image echoes Henri Rousseau's paintings in color and composition, and children will recognize the tiger and bright orange sun from the opening image.
Readers will feel they've been on a journey, as the lyrical text shows how the girl emulates the sleeping animals to find her own way into sleep. --Jennifer M. Brown, children's editor, Shelf Awareness