Special Powers and Abilities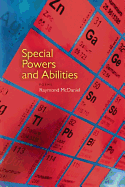 Like Denise Duhamel's popular Barbie poems, Raymond McDaniel's Special Powers and Abilities is a clever paean to a pop-culture artifact--in this case, the comic book; in particular, the 30th-century Legion of Super-Heroes. An avid fan since childhood, McDaneil says he wants to treat them as if they were "true," to "restore them to some of the glorious strangeness they would possess were we to see them literally and anew."
For those not in the know, this group is indeed "legion," from the well-known (and, in this case, time-traveling) Superboy and Supergirl to the lesser-known Shadow Lass, Ferro Lad and Brainiac 5--among nearly 40 comrades. The first poem invites with "Welcome, Visitors":
"Is this your first visit to the 30th century?...Look up, and see the sky teem with the teens of ten thousand suns.
A legion."
Next, McDaniel tells us "What to Expect" from these poems about the super-laden boys, girls, lads and lasses: "We will grow up. But we will never grow old."
Clearly, McDaniel is having lots of fun playing with different poetic forms and with the intricacies of seemingly unending permutations of "super" plots about super heroes, like infinite moves in a galactic chess game. There are entire poems about special issues ("Adventure Comics #313, October 1963") and sly, waggish, mischievous poems about his subjects' many super powers and super love lives. Might one expect a sequel to Special Powers and Abilities? To be continued.... --Tom Lavoie, former publisher