Spilt Milk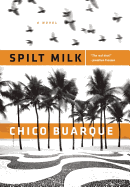 Eulálio Assumpção, 100 years old, is trying to tell the story of his life. Time has reduced him to a complaining old man in a hospital bed. His addled babbling is directed at someone--but who? Maybe he's mistaking his daughter for his wife, who either ran off or was killed in a car accident or drowned or died of tuberculosis. His past is a patchwork of lies. His memory is failing. And his morphine medication is making him loopy, pushing the convention of the unreliable narrator into a whole new delirious dimension.
Told in short chapters consisting of solid blocks of monologue, Brazilian author and musician Chico Buarque's Spilt Milk ripples forward and backward in time. Seventeen-year-old Eulálio is smitten by Matilde, a cinnamon-skinned singer at the memorial service for his father. Flighty, selfish Matilde makes a delightful wife but is far from a good mother. He adores her throughout their brief, happy marriage and into the agonies of jealousy, when his friend, a charming French engineer, seduces her.
Eulálio can be a spoiled, racist old cuss. The other characters around him are equally colorful. His mother's devoted chauffeur dies in her bed wearing her husband's pajamas. His father, a handsome senator, is machine-gunned down as he enters his bachelor pad. Eulálio's daughter has him committed against his will. His Italian son-in-law sells Eulálio's home out from under him and runs off with the proceeds.
Against all odds, this blundering, foot-in-his-mouth old grumbler endears himself to us, and the tangled, troubled summation of his life becomes surprisingly sympathetic. --Nick DiMartino, Nick's Picks, University Book Store, Seattle