The Doctor of Thessaly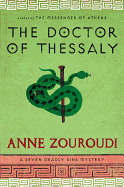 The mysterious (and fat) Hermes Diaktoros is back in Anne Zouroudi's third book in the series organized around the seven deadly sins. The Doctor of Thessaly tackles envy; it begins with a bride left at the altar when someone throws acid in the face of her fiancé, blinding him. Hermes, who works for a "higher authority" than the police, is immediately on the scene, but the fiancé curiously doesn't want an investigation. That doesn't keep Hermes from looking into the crime, which leads to a shocking discovery.
Part of the pleasure of these books is the atmosphere, as Zouroudi takes her time transplanting her readers to fictional Greek villages. The Doctor of Thessaly tale unfolds in Morfi, and it's a pleasure to follow Hermes as he travels through town, getting to know its residents, and enjoying--or not--the local cuisine. One can almost taste the wine made from a lazy man's overripe grapes and feel the dirt on one's feet--though, as usual, Hermes keeps his tennis shoes pristinely white; he even does a bit of running in them.
This is the first entry in the series that drops a strong hint about who Hermes is and where he comes from: an old villager confronts our fat protagonist with "evidence." The Doctor of Thessaly continues the mythological arc of the series, while whisking readers away to a place where life has a gentler pace and tempo, but people are still capable of committing vicious acts toward each other. --Elyse Dinh-McCrillis, freelance writer/editor, blogging at Pop Culture Nerd