The Town Mouse and the Country Mouse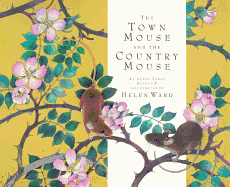 A city mouse plants a seed of doubt in the mind of his country mouse cousin in this sumptuously illustrated retelling of an Aesop fable.
Helen Ward (Pirateology; Unwitting Wisdom) distills the fable into spare poetic lines and allows her detailed watercolors to tell the real story. The slightly plump, wide-eyed country mouse basks in the riches of his quiet surroundings. Pink-tinted birds match the spring blossoms on a branch where the mouse peacefully perches, and in autumn, butterflies' wings echo the orange-tinted apples ripe on the trees. But the hero's cousin comes to visit, "a fine, sleek city mouse with a lot to say," and boasts of "exotic foods" and luxury where he lives. After the cousin departs, the country mouse sits alone in a field, and "grew less certain of his contentedness."
Ward shows the hero hitching a ride to the city on a truck transporting those orange-tinted apples: "He discovered lights in the dark and automatic ups and downs." Children will delight in sighting the little fellow through the gated door of an elevator. The city mouse's home may be filled with beauty and banquets (in a Christmas-tinged backdrop), but danger lurks in the form of human hands and frisky dogs. The country mouse "longed to be back beneath a night sky lit only by stars, to be safe, to be content... to be home." Ward's retelling and glorious full-page illustrations suggest that sometimes one must leave home to appreciate it fully. The underlying message is one of gratitude. --Jennifer M. Brown, children's editor, Shelf Awareness