Book Brahmin: Danny Wallace
Danny Wallace is a British filmmaker, comedian, journalist, actor and TV and radio presenter. His past books include Random Acts of Kindness, Join Me and Yes Man, which was made into a movie starring Jim Carrey. He lives in London. Wallace's debut novel, Charlotte Street (Morrow), has been optioned by Working Title Films.
On your nightstand now:
Kill Your Friends by John Niven. I'm reading it for a second time. Bleak, harrowing, nasty, compulsive and hilarious. Niven's prose grabs you by the neck and drags you along, spitting and swearing in your ear, whether you like it or not. And though you'd rather be somewhere safer, you also really want to go along for the ride. It's great.
Favorite book when you were a child:
Anything by Roald Dahl.
Your top five authors:
P.G. Wodehouse, George and Weedon Grossmith, Roald Dahl, William Boyd and definitely Salman Rushdie.
Book you've faked reading:
The books of Salman Rushdie.
Book you're an evangelist for:
Diary of a Nobody by George and Weedon Grossmith. I never thought a book written in the 19th century could make me laugh as much as this did, but that's the power of strong comic writing... you see yourself, your friends, your whole world in it. This is the story of a pompous "nobody" who's certain he's a somebody... or, at least, is desperate to be. I make people read this book all the time.
Book you've bought for the cover:
I've bought a lot of books for their covers. Some people are a bit snobby about that. I don't know why. It's all part of the process. The last one I bought for its cover was Casino Royale by Ian Fleming. I felt cool just knowing it was in my bag.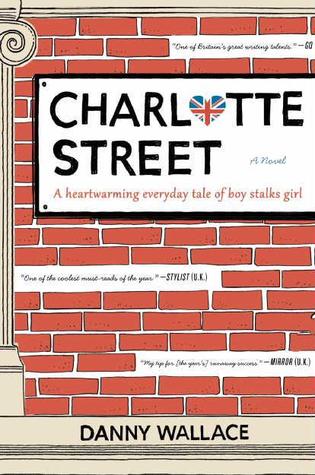 Book that changed your life:
This Book Will Change Your Life. Not really. In all honesty, probably Join Me by Danny Wallace. It changed my life in that it was my first book and meant I'd found my thing and established me. I'm sorry my answer isn't more worthy, but it's the truth. A highlight was a month-long tour of U.S. bookshops, picking up weird books I'd never before seen.
Favorite line from a book:
"THE END" (from Fifty Shades of Grey).
Book you most want to read again for the first time:
The Dice Man by Luke Rhinehart. I had the pleasure of meeting the author recently, and re-read it, but how great would it be to read something like that for the first time again? To be surprised and delighted and made to laugh, or wince or near-choke? The Dice Man is a weirdly underappreciated classic.
Why aren't you wearing any clothes?
I just got up.