Invisible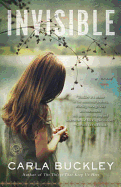 "There are different kinds of prisons," Carla Buckley writes, "some with walls and floors and doors, and others built even more sturdily out of things you can't see--love and hope and fear."
Dana Carlson escaped the prison of her small hometown, Black Bear, Minn., or so she thought. She made a life of bringing down buildings when she became part owner of a demolition company. Despite all the literal freedom in her life, her past and the walls she created in her family continue to imprison Dana. So when her niece calls to say Dana's sister is dying of kidney disease, Dana isn't sure if she has dynamite powerful enough to free herself and those she loves, figuratively speaking.
Like Buckley's debut novel, The Things That Keep Us Here, Invisible offers readers haunting questions without right or wrong answers. Buckley's ability to create fully realized characters with whom readers easily empathize makes the ethical dilemmas the characters encounter frighteningly powerful. Additionally, Buckley's obvious understanding of the science included in the plot--biological and chemical--intensifies the novel's suspense and will likely have readers scrutinizing the ingredients in everything they buy.
The complexity of Invisible creates a satisfying reading experience, but it's Buckley's careful and purposeful depiction of the characters' relationships that cements everything together, allowing readers to envision their own prisons built of "love and hope and fear." Invisible is simultaneously terrifying and encouraging. What more should a great read be? --Jen Forbus of Jen's Book Thoughts