King Arthur's Very Great Grandson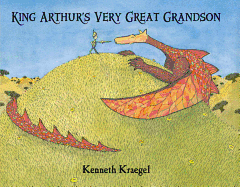 As the great-great-great-great-great-great-great-grandson of King Arthur, Henry Alfred Grummorson has a big legacy to live up to in this humorous twist on a quest tale.
Henry wakes up on his sixth birthday and takes his "trusty donkey," Knuckles, out in search of adventure. First he challenges a fire-breathing Dragon to "a fight to the uttermost!" First-time author-illustrator Kenneth Kraegel creates a perfect circle, with Henry holding out his sword, nearly touching the Dragon's nose, while the mythical creature encircles its tail as if to touch Henry's back. Flecks of green and gold in the Dragon's scales pull in the colors of the hillside and golden sun. The critter blows out smoke rings and suggests, "If rough adventure is what you seek, maybe you should try the Cyclops." The Cyclops, too, avoids bloodshed, instead suggesting a staring contest.
Henry is similarly redirected by a Gryphon and Leviathan. In each case, Kraegel makes the enemy benign, even laughably congenial, yet he never takes away from Henry's seriousness of purpose. Instead, Henry learns that it's connection rather than conflict he seeks. Charming. --Jennifer M. Brown, children's editor, Shelf Awareness