On Extinction: How We Became Estranged from Nature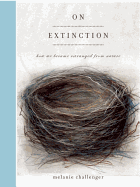 Poet Melanie Challenger (Galatea) was alarmed to note that while she knew both her grandmother's and her mother's favorite wildflower, she did not have a favorite because she didn't know enough wildflowers from which to choose. In On Extinction, she travels to places that embody the history of human connections to nature and muses on our growing estrangement from our environment.
The title suggests Challenger's initial focus on extinctions: not only of plants and animals, but of cultures, languages and industries. She quickly discovers a growing secondary interest in nostalgia, like our attraction to extinctions, which makes the dodo bird the subject of so much curiosity. In her travels through the Arctic and the Antarctic, England, South America and Canada, she attempts to reunite with nature and find her own favorite wildflower. She also asks: Can humans live productively in this world without destroying it? She is made hopeful by our reverence for the past and for natural beauty.
Challenger brings a loving sense of wonder to the natural world, realizing how little she knows and relishing the process of learning. She looks backwards with the intent of remaking our future relationship with the planet. She does, as one might expect, discuss Muir and Thoreau, but she also turns to Locke, J.S. Mill, Rousseau and especially Darwin, seeking a philosophy of the natural world and our place in it. Highly literate with a lovely, almost reverent tone, On Extinction notes human threats to our environment but ultimately remains hopeful that we can reestablish a healthy relationship with the Earth. --Julia Jenkins, librarian and blogger at Pages of Julia