The Horror of Love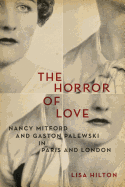 Subtitled "Nancy Mitford and Gaston Palewski in Paris and London," Lisa Hilton's The Horror of Love tells the dramatic story of the relationship between the successful novelist and the Free French commander who became one of the most influential politicians in post-war Europe. The title comes from a statement Mitford made to her sister, Diana Mosley, when she saw Palewski, looking happy, with another woman. "So dreadful to prefer the loved one to be unhappy," she said. "Oh, the horror of love."
It is hard to think of any of the sensational Mitford sisters without mentioning all of them: Diana, the beautiful fascist; Unity, the ardent Nazi; Jessica, the lifelong Communist; the quite unconventional Deborah; Pamela, referred to as "the rural one"; and, of course, Nancy--the eldest sister, an author and fashion maven with famously bad taste in men.
Nancy, married to a crashing bore and philanderer, moved to Paris after the war to be with Palewski, one of Charles DeGaulle's right-hand men. Although Palewski told Nancy that he was not madly in love with her, she couldn't stay away from him, living for the few moments of time he could spare for her. He finally married someone else, leaving her devastated. She patterned Fabrice in her novel The Pursuit of Love after Palewski.
Hilton has captured the time and the affair in an entertaining and arch look at Nancy, founder of the concept of "U and non-U," and Gaston, halitosis and all. --Valerie Ryan, Cannon Beach Book Company, Ore.