Billy Lynn's Long Halftime Walk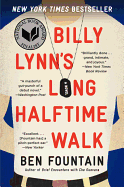 Ben Fountain has written a truly wondrous first novel in Billy Lynn's Long Halftime Walk. On the face of it, this is the story of Bravo Squad, eight brave survivors of a horrendous firefight with Iraqi insurgents who are being celebrated at Texas Stadium on Thanksgiving Day. They are feted, made part of the halftime show and projected on the Jumbotron--then dropped when their marginal utility has been served. But first they visit the owner's box--a glimpse of Valhalla for young men who have known nothing but privation, fear, mud and field rations for months.
Nineteen-year-old Billy Lynn is the centerpiece of the novel. The steady thrum that beats through every page is his realization that he will be back in Iraq in 36 hours. We see everything through the lens of his experience, at the center of which is the loss of his good friend, Shroom, in the firefight.
Billy Lynn's Long Halftime Walk is a sad story about what war does to us, all of us. If it doesn't bring you to your knees, read it again. --Valerie Ryan, Cannon Beach Book Company, Ore.