Comet's Tale: How the Dog I Rescued Saved My Life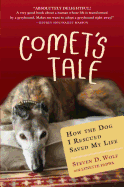 Steven Wolf was forced into retirement in his early 40s due to spinal degeneration. Living in Arizona during the winter to escape the cold of Nebraska, where his wife and daughters remained, Wolf found companionship unexpectedly in Comet, a retired racing greyhound who decided to adopt Wolf. In Comet's dignified, gracious presence, Wolf finds temporary solace, but his health continues to degrade, until getting out of bed or opening a door become monumental tasks. When his friends and health workers suggested Wolf get a service canine, he rejected the idea until his massage therapist asked, "What about Comet?"
Inquiries to professional trainers met responses that varied from polite refusals to outright laughter. After all, greyhounds are known for one thing: speed, not brains. However, determined to prove the world wrong, he set out to train Comet himself, a journey that would bond the pair irrevocably and ultimately lead to a reversal of fate.
Although every bit a top-notch dog story, Comet's Tale is at heart an inspiring look into a man's struggle to remain himself in the face of a progressive disability. Wolf's admission of his own flaws and mistakes is as courageous and endearing as his fight to maintain independence, making the incredible ending both startling and welcome. --Jaclyn Fulwood, blogger, Infinite Reads