Gone Girl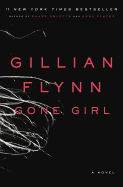 Gillian Flynn's excellent new novel has so many twists and turns that describing it, even in broad strokes, runs the risk of disclosure. It would be a disservice to deny any reader the joy of slowly peeling away the layers of deceits wrapped around its deliciously dark heart.
On the day of their fifth wedding anniversary, Amy Elliott Dunne disappears from the sterile Missouri house she shares with her husband, Nick. He finds the front door wide open, signs of a struggle in the living room and a freshly mopped floor in the kitchen. The police draw what seems an inevitable conclusion: the husband did it. Nick agrees that he looks guilty and readily admits--to the reader--to being a liar.
Amy's diary might hold some clues--she wrote that she was beginning to become frightened of Nick's dark moods. Nick, naturally, tells a different story. According to him, it was Amy who had changed, becoming cold and bitter. Our sympathies and suspicions pinball as Flynn thickens her plot with an expert hand.
It is a rare breed of writer who can combine suspense, an intricately crafted plot and deeply developed characters without sacrificing nuance, but Flynn makes it look easy. Gone Girl delivers in spades. --Debra Ginsberg, author