Little White Duck: A Childhood in China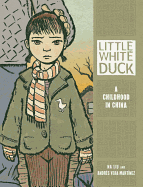 This extraordinary memoir offers readers a close-up picture of life in 1970s China.
Called "Da Qin," Na Liu was born outside Wuhan, China, in 1973. The book opens as young Da Qin wakes up, thinking she'll be late for school, and heads outside to a spigot to brush her teeth. But there is no school today. It is September 6, 1976, and Chairman Mao has died. Na Liu's recollections demonstrate the benefits to her family under Mao, especially to her mother who, paralyzed by polio as a girl, was able to walk again. Co-author Andrés Vera Martínez (Babe Ruth), Na Liu's husband, uses the graphic novel format to perfection, zeroing in on Da Qin's expressions, and conveying Mao's importance through wide-angle views of murals and banners.
In the last and most moving chapter, Da Qin insists on wearing her coat with a velvet white duck to her Baba's rural village. Da Qin learns firsthand of the disparities in her country, and gains compassion because of it. Liu and Martínez find the universal moments in the details of an exotic land, inviting readers to see themselves in Da Qin's experiences of friendship, family and country. --Jennifer M. Brown, children's editor, Shelf Awareness