One Last Thing Before I Go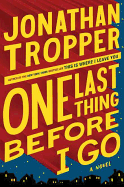 Jonathan Tropper scores again with One Last Thing Before I Go, a sharp and funny study in dysfunctionality and middle-age crisis. The protagonist is Silver, an unhappily divorced man in his 40s with a Princeton-bound daughter who resents him. He readily admits that he's been a lousy husband and father, and feels he's gotten what he deserves--days of hanging by the pool of a rundown efficiency with his equally loser buddies. He can't even bring himself to dislike his ex-wife's fiancé, Rich, a relentlessly decent surgeon.
Then his daughter shows up and drops a bombshell: she's pregnant and wants Silver to make a decision for her. At one point in their ongoing back-and-forth, Silver blacks out and wakes in a hospital with Rich standing over him telling him that he will die if he doesn't have an operation immediately to repair an aortic tear. Silver refuses the surgery and leaves the hospital, his reason unclear, but it's all of a piece with his general inability to commit to anything.
As the novel careens to its satisfying and not entirely expected ending, Tropper leavens the humor with many tender moments, but never manipulates our emotions. Both the laughs and the tears in this sweet and clever novel are genuine and well-earned. --Debra Ginsberg, author