Rocket Writes a Story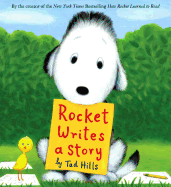 In this terrific follow-up to How Rocket Learned to Read, Hills delivers another gently humorous story about mastering a skill and making a friend.
Rocket, now a reader, has taken up word collecting. He brings back to his teacher, the little yellow bird, words like "buttercup," "bug" and "feather." A double-page spread depicts a "nest" high in a pine tree. The book brims with teachable moments: Rocket writes down words such as "leaf," "bush" and "dog" (nouns), while the bird adds more words (e.g., "for," "by" and "the"). Rocket returns repeatedly to that tree--and the nest dweller, who introduces herself as "Owl." Writers young and old will recognize Rocket's plight: "He looked down at the blank page and the blank page looked up at him. But no story would come."
As Rocket reads his drafts to the owl, she asks, "Then what happened?"--music to any storyteller's ear--and a friendship blossoms. Once again, Hills delivers a double dose of smart tips on learning while also illustrating how to be a good friend. --Jennifer M. Brown, children's editor, Shelf Awareness