Soundings: The Story of the Remarkable Woman Who Mapped the Ocean Floor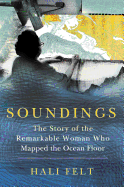 Biography readers who love stories of fascinating, historically important figures should rush to find a copy of Soundings, Hali Felt's astute reconstruction of the life of Marie Tharp.
In 1948, Tharp, a brilliant and independent geologist, came to work at Columbia University's Lamont Geological Observatory. Barred from fieldwork due to her gender and relegated to drafting maps under men her junior in both age and education, Tharp nonetheless made a startling contribution to the world of earth sciences. While interpreting soundings (a measure of oceanic depth) into oceanic cartography, Tharp discovered the Mid-Oceanic Ridges, an underwater mountain range that proved the theory of continental drift.
While historical accounts show Tharp as self-contained and outwardly unemotional, the topography of her life contained mountains and valleys created by her mother's early death, her fight for acceptance in a man's world and her unorthodox relationship with Bruce Nezeen, her partner and lover. An intelligent, passionate woman, the political machinations of the Cold War, and an underwater world where "steaming hot springs resemble ladles of consommé," combine in a remarkable story.--Jaclyn Fulwood, blogger, Infinite Reads