Summer of the Gypsy Moths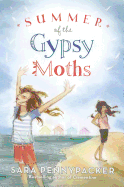 Sara Pennypacker's (the Clementine series) moving story of a pivotal summer on Cape Cod explores the growing trust between two opposite girls forced to mature before their time.
Narrator Stella, who's almost 12, comes to live with her great-aunt Louise after her grandmother dies and her mother heads off to parts unknown. Stella loves the water, Louise's blueberry bushes and how everything has its place in Louise's house. Louise also takes in an orphan named Angel, to keep Stella company. But the two are "oil and water." When the girls get home from school one day to discover Louise dead in front of the TV set, however, they band together to pretend Louise hasn't died.
Their scheme involves episodes of laughter and poignancy, as the girls' teamwork creates a mutual respect. Pennypacker creates adults as compelling as her two young heroines, who eventually figure out where they belong. Like Clementine, Stella's quirks and offbeat humor make her real and lovable. --Jennifer M. Brown, children's editor, Shelf Awareness