The Great Partnership: Science, Religion, and the Search for Meaning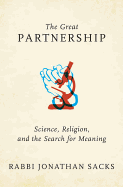 In The Great Partnership, Rabbi Jonathan Sacks offers an examination of the most profound issues of faith and science that is both intellectually rigorous and generous in spirit.
With an impressive range of scholarship that extends far beyond the Jewish tradition, Sacks marshals an array of arguments for the proposition that "we need both religion and science." He strives to convince us religion doesn't require "the abdication of the intellect, a silencing of critical faculties." Early in his argument, he writes, "Science takes things apart to see how they work, religion puts things together to see what they mean."
In stately and accessible prose, Sacks discusses topics like evolution, the problem of evil and the excesses of religion. He explicitly refrains from offering elaborate philosophical proofs for the existence of God, calling such an effort "misconceived." It's less important for Sacks to prove that a divine being exists than to live as if one does. --Harvey Freedenberg, attorney