The Song of Achilles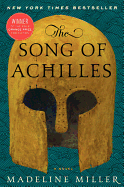 In Homer's Iliad, several themes are underlined--fate, honor, wrath and that most Greek combination of pride and arrogance, hubris. But one thing The Iliad is never billed as is a love story. Until now.
Debut author Madeline Miller builds a brilliant novel around the story at the heart of The Iliad: the relationship between its key figure, Achilles, and his companion Patroclus--the son of a king, stripped of his title and exiled to tiny Phthia to be fostered by Peleus, father of Achilles. The boys become friends, and gradually more, but there are dark clouds hanging over this nascent romance: the prophecy that Achilles will die in battle, and Achilles' mother, the immortal and embittered sea-nymph Thetis.
The slow, sunlit pace of the novel undergoes a rapid shift once the scene moves to Troy. Miller's battle scenes combine thrilling action and subtle shifts in mood; it is here that she captures her readers most completely, tying the intimate story of Achilles and Patroclus to larger, resonant themes of honor, friendship and self-determination. With this dazzling jewel of a novel, Madeline Miller has proven more than worthy of the challenge of reworking a classic. --Debra Ginsberg, author