Isabel Greenberg: Reimagining Early Earth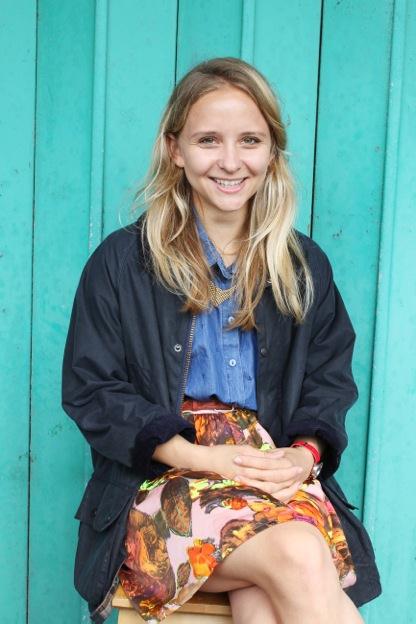 photo: Lydia Garnett
Isabel Greenberg is an illustrator and writer who lives in North London. Her debut graphic novel, The Encyclopedia of Early Earth, was just published by Little, Brown (see our review below). Greenberg studied illustration at the University of Brighton and has worked for NoBrow Press, Seven Stories Press and Solipsistic Pop. She won the 2011 Observer/Jonathan Cape Graphic Short Story Prize for "Love in a Very Cold Climate."
Your graphic novel The Encyclopedia of Early Earth brings together the many elements of religion, myth and fantasy to weave a complex narrative about early civilization that satisfies on so many levels. What folktales and influences inspired you to create such a brilliant tale?
I looked at a lot of different stories, legends and fairy tales. There's quite a few Old Testament stories in there, creation myths from various cultures, fairy tales for sure and a little bit of Greek and Norse mythology. I took a bit of everything! I think that there are certain stories and themes that are fundamentally relevant to everyone; things that we can all relate to on some level, no matter where we come from or what time we were born in. That's why they are some stories that never seem to be irrelevant. I find it very interesting that there is so much crossover between cultures with folk stories, fairy tales, religious stories. There is pretty much a Cinderella equivalent in every culture, and I guess it's because everyone can relate to themes like parents, siblings, jealousy, rivalry and, of course, love. They are just human things. And I like that.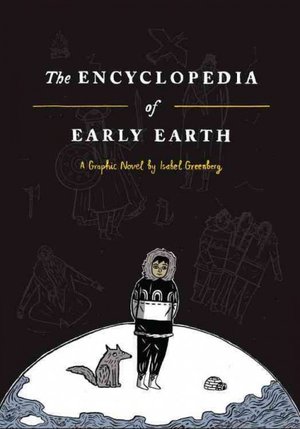 Did any genre of myth influence you the most?
Probably Greek mythology if I had to pick... but really I looked at a lot of different things. A lot of the tales in the book that have been appropriated are from Old Testament stories. But the gods in my book are much more like the Greek or Norse gods. What I like about Greek mythology is that the gods are characters in the stories. They aren't a faceless spiritual presence, they interact with the humans and do human things like fall in love and make mistakes and meddle. I wanted my gods to be more like that.
You adapted historical artifacts from the Nordic migration in England and Eskimo mythologies and spun them into a mesmerizing world called Britanitarka. Can you talk about how you did this and why you were drawn to this period in English history?
In terms of research I went to lots of museums--the British Museum, the Pitt Rivers in Oxford, the Museum of the History of Science in Oxford, the British Library and others. I wanted to make my pretend world feel rich and like it had a real history, even if the history was entirely invented! I found that if I took recognisable elements of real history and muddled them up with my invented stuff, it seemed more real... at least to me. I think Britanitarka is one of my favorite places in Early Earth. I wanted it to be cold and grey and wild and sort of like the places that the fantasy novels I read as a child always seemed to be set in. I am a massive fan of Ursula Le Guin; in the first book of her Earthsea Quartet you meet Ged, who is born on this windy and wild island called Gont.
Your short story "Love in a Very Cold Climate" also touches upon themes of cold and impossibility. What is it about these two concepts that appeals to you?
I'm not sure actually. In terms of cold, I think there is something a bit appealing and romantic about snow and the wilds. But to be honest I probably feel that way because we don't get a whole lot of either in London, so I think my notion of it is pretty much based on Frozen Planet! Two inches is pretty mega for us here, and when that happens the whole city basically shuts down, everything stops working, and they always run out of salt for the roads.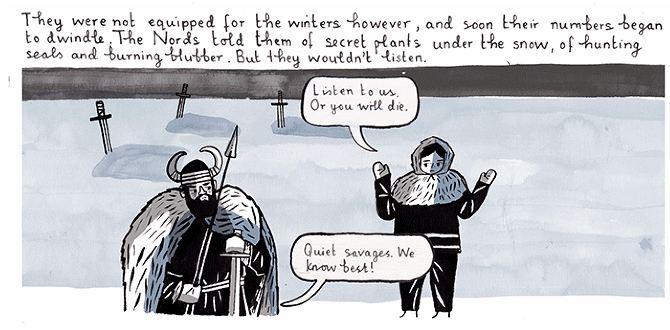 While romantic and compelling, there is no "happily ever after" in Early Earth, and it seems as if the audience is left with a cliffhanger, with no possible future in sight. What compelled you to develop the story to such an incomplete note?
I don't see it as a cliffhanger, really. The couple dies, having spent their lives together hearing each other's stories. They never resolve the issue with the magnetic field, but they are happy in a way. I guess it's bittersweet? Their story is definitely over and complete in my eyes. I won't be revisiting them as characters. But there will be more from Early Earth; you can count on that, and especially from the Gods!
Which comic artists have influenced you the most and why?
There are so many amazing comic artists out there, it's hard to decide. I think I was influenced a lot in terms of visuals by artists like Marjane Satrapi, David B and Seth. I tend to like things that are quite simple with a limited color palate. I love Kate Beaton's work. But if I'm talking about my influences, I think they really span a lot further than just comic artists. I think I was profoundly influenced by the stuff I read growing up, and also by more historical art. I love tapestries, religious iconography, Persian miniatures, medieval art, illuminated manuscripts, Japanese paintings and folk art.
What projects do you have planned?
I have just finished a short comic. It's called Tall Tales and Outrageous Adventures and is a collection of retellings of different Andersen fairy tales. It's the first in a miniseries I'm working on that will retell fairy stories and folk tales. I'm self-publishing them with a U.K. indie press called Great Beast Comics. After that I definitely plan to do another graphic novel, and it will probably feature Early Earth. I've got a lot more stories to tell from there. --Nancy Powell, freelance writer and technical consultant