The Blind Masseuse: A Traveler's Memoir from Costa Rica to Cambodia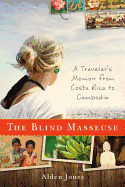 "We leave home with an arsenal of things we know about the place we're going," Alden Jones writes in her mesmerizing travelogue, The Blind Masseuse. But, she cautions as she explains the title, "there is no disarming all of what we know, no matter how much touching and kneading and feeling we do.... What makes us blind is what we think we see."

Jones's awareness of the unknowable helps her appreciate the slippery slope between familiarity and exoticism. A sudden bump into a cow in the pitch-black Costa Rican night can be as disorienting as an array of coffee and bagel choices in New York City. Sometimes the sheer enormity of a country's tragedy turns a traveler into a voyeur. Jones feels her photographs of the Tuol Sleng Museum--the site of the Cambodian genocide--are merely redundant and solipsistic; they prove she was there, but do not mitigate the horrific events. On her Burmese trip, Jones took snapshots from the windows of her tour bus. The blurry images carry the beauty of myth, but Jones is clear-eyed: "The countryside looked easy and peaceful to us," she writes. "What we saw and remembered did not reflect the true Burmese experience, lives suffering memories of torture, a sister raped, a son stolen. No. I saw willows." --Thuy Dinh, editor, Da Mau magazine.