Boxers & Saints: A Graphic Novel Diptych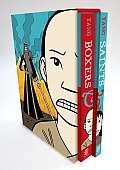 Yang's (American Born Chinese) extraordinary Boxers and Saints are best read together. Boxers unfolds through the eyes of Little Bao, the third of three sons in 1894 Northern Shantung Province; while Four-Girl--the only one of four daughters to survive past a year--guides readers through Saints. Their paths criss-cross in the two books. It's a brilliant way to approach a conflict as complex as China's Boxer Rebellion.
Illiterate, Little Bao learns the history and legends of China through operas performed in his village. The arrival of the Europeans leads him to Red Lantern, an expert in the martial arts, and then to Bao's ascension within the Brother-Disciples of the Society of the Righteous and Harmonious Fist--chief defenders of the peasantry. As they fight, graphic novel sequences chart their metamorphosis into the deities Bao knows through his love of opera. In Saints, Four-Girl discovers kindness among the Christians and, in a moment of great desperation, she sees a vision of Joan of Arc.
Crossover appearances between the two books convey a larger historical context. Lark Pien's use of color endows each book with its transcendent quality. Yang convincingly conveys two sides to this complex story, each deserving of a hearing. --Jennifer M. Brown, children's editor, Shelf Awareness