Cinnamon and Gunpowder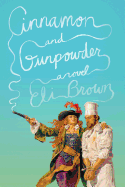 Any author who combines wildly disparate topics in one plot takes a risk. The resultant effect is either that of flint and tinder or that of oil and water. Eli Brown combines a swashbuckling piratical adventure with gourmet cooking, and his risk pays off--the two go together in a scrumptiously entertaining romp on the high seas, set in the year 1819.
Renowned chef Owen Wedgwood is taken captive by the crew of the Flying Rose, captained by ruthless pirate queen Mad Hannah Mabbot. She will allow Wedgwood to remain alive on one condition: he must whip up a delicious meal for her every Sunday. Like Scheherazade's stories, each meal will buy Wedgwood more time on this earth. While he struggle to create delicious dishes out of almost nothing, Wedgwood slowly learns that Captain Mabbot's murderous actions aren't without purpose. Eventually, he must choose whose side he's on: that of a society contributing to the suffering of millions of people, or that of the lawless pirate with whom he's falling in love.
For pure escapist pleasure, Cinnamon and Gunpowder has no match. The prose particularly shines during Wedgwood's descriptions of his successful meals. Readers hungrier for action than romance will find plenty to satisfy their appetites as well, with bloody battles, narrow escapes and gunplay. --Jaclyn Fulwood, youth services manager, Latah County Library District; blogger at Infinite Reads