Fairyland: A Memoir of My Father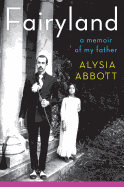 When Alysia Abbott was two years old, her mother was killed in a car accident. Her father, Steve, moved her across the country to raise her alone as a gay man and single father in 1970s San Francisco--a pioneer in several senses. Alysia's childhood and teen years took place against the backdrop of a magical, experimental Haight-Ashbury district filled with creative, adventurous people like her father (a poet and political activist), recreational drugs and minimal supervision.
Their father-daughter relationship was loving but rocky. When Steve develops AIDS and his health begins to plummet, he calls 20-year-old Alysia home from her studies in Paris and New York City to nurse him, a full-circle caretaking demand that she resents at the time.
Fairyland is foremost a daughter's memoir of a much-loved parent, in a colorfully rendered iconic epoch in San Francisco. Alongside beautiful characterizations (often morphing into eulogies), Alysia paints a stark image of the AIDS epidemic and the Reagan administration's non-response to it. As a personal story and as a portrayal of an era, Fairyland is powerful, loving, authentic, and contains Steve's artistic legacy in its lyricism. It acknowledges Steve's impact on Alysia--and both their shortcomings--with gratitude and grace. --Julia Jenkins, librarian and blogger at pagesofjulia