Far Far Away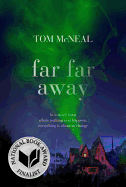 This highly imaginative spin on the Brothers Grimm tales casts the ghost of Jacob Grimm in the role of narrator and godfather to a contemporary teenage boy.
Upon his death, Jacob Grimm is thrust into a kind of purgatory. But he finds a calling in protecting 15-year-old Jeremy Johnson Johnson in the small village of Never Better.
McNeal (author of To Be Sung Underwater, for adults) strikes an impressive balance between a small-town setting with modern amenities and a timeless quality in a society that predates cell phones, and where kids still pull pranks, such as the one attractive Ginger Boultinghouse convinces Jeremy to pull on the town's baker. Jeremy can hear ghosts, and McNeal exploits the comic possibilities. Jacob gives Jeremy helpful hints on his exams and advice (often ignored, when it comes to Ginger). The author flaunts his bounty of Grimm facts when Jeremy chooses fairy tales as his specialty for a TV quiz show, and again at a much darker hour, when Jeremy, Ginger and another boy from town are kidnapped.
Structured like a fairy tale, the story will keep readers on the edges of their seats with its overriding sense of danger, lurking like a deep forest surrounding the town. --Jennifer M. Brown, children's editor, Shelf Awareness