Flora & Ulysses: The Illuminated Adventures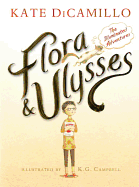 Kate DiCamillo's (The Tale of Despereaux) latest adventure begins when a Ulysses Super-Suction, Multi-Terrain 2000X vacuum cleaner accidentally sucks up an ordinary squirrel, thus transforming him into a super-strong superhero who can type poetry, if not vanquish villains. Flora, a quirky-smart 10-year-old, fears for the life of her extraordinary new friend Ulysses, with good reason. Her mother wants Flora's father to whack the critter with a shovel and bury him. Arch-nemesis, check.
The heart-tugging story of Flora's loneliness, her rocky relationship with her divorced parents, and a peculiar but possible new friend, William Spiver, interweaves seamlessly with the side-splitting shenanigans and ponderings of a sentient squirrel superhero. Not only is Ulysses always very hungry, he's enamored with the world: "He loved all of it: smoke rings and lonely squids and giant donuts and Flora Belle Buckman's round head and all the wonderful thoughts inside of it." K.G. Campbell's charming, funny, cartoon-panel, b&w pencil-sketch vignettes zero in on Ulysses in action, whether typing, flying or outmaneuvering an evil cat.
Eccentric characters, snappy prose and the fantastical plot give this delightful novel a giddy, over-the-top patina, but the core is big and hopeful, contemplative and bursting with heart. No small feat, even for a superhero like DiCamillo. --Karin Snelson, freelance writer and children's book editor