Love Among the Particles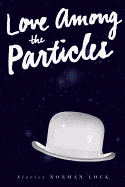 Norman Lock is one of the best writers you've never heard of, but that could change with this collection of stories combining absurdist elements and avant-garde fiction with conventional storytelling to satirize our romance with devices and our penchant for confusing technology with living.
The worlds in these stories are nearly recognizable, familiar but disguised by Lock's fabulist instincts. The first story, "A Monster in Winter," adopts flawless Edwardian language to tell the story of an ambitious journalist's efforts to exploit Mr. Hyde, with horrifying consequences. In the title story, with a nod to Kafka's Metamorphosis, a man dematerializes, becoming nothing more than particles in a digital space alongside data bits, longing for true love as he observes the world happen around him.
Lock's writing is beautiful with clean, clear, perfect sentences. He might delight in pyrotechnics but they are never self-indulgent; his language and imagination are always in service of the story. Each story feels total, complete, seducing the reader with language and narrative into a fully realized alternative world to say something new about our own.
Love Among the Particles is topical, astonishing and provocative--and should help Lock reach his widest audience yet. --Jeanette Zwart, freelance writer and reviewer