The Book of Barely Imagined Beings: A 21st Century Bestiary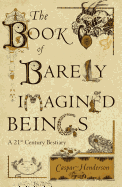 In The Book of Barely Imagined Beings, Caspar Henderson explores a world of real animals stranger than any imaginary beast--animals barely imagined because our knowledge of them is "too cramped and fragmentary to accommodate them." Like medieval bestiaries, Henderson's work attempts to understand and celebrate the beauty and diversity not only of beings but also of being itself.
The "21st-century bestiary" is divided into 27 essays, ranging in subject from the axolotl to the zebra fish. The seemingly narrow focus of each essay is misleading. Whether discussing the importance of the human foot or the abundance of real-life unicorns, Henderson considers his subjects in wide-ranging terms. He weaves together zoology, evolution, mythology, cosmology, philosophy, history and ecology with a light touch, quoting poets as often as paleontologists. This is a book of big ideas and carefully chosen details, and the physical book is as beautiful as the language in which it is written; like its medieval counterparts, its wide margins are home to illuminating marginalia.
Humankind--our relationship to other animals and our affect on the global ecosystem--is a theme that runs throughout the book as Henderson challenges us to consider what we value, what we fail to value and how we might change. --Pamela Toler, blogging at History in the Margins