The System: The Glory and Scandal of Big-Time College Football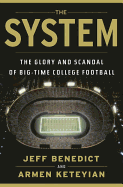 Investigative journalists Jeff Benedict and Armen Keteyian have written an explosive book about the country's most popular sport. In 2012, Johnny Manziel was on his way to a Heisman (his star now tarnished by an autographs for money mini-scandal, the NCAA tarnished by benching him for a mere half game); the child abuse sex scandal at Penn State blew up; Ohio State was "bruising" its way to an undefeated season while barred from a bowl game; dozens of schools were on probation for academic cheating and money shenanigans. Major conference realignments meant a bigger share of TV revenue but eroded the trust and friendship college presidents and athletic directors had fostered for decades. And "student-athletes" are still essentially slaves, working an 11-month job with the benefits of season-ending injuries and long-term brain damage.
Benedict and Keteyian write with depth, insight and graceful prose ("long, languid Louisiana athleticism"). They leaven the scandalous (and merely eyebrow-raising) with the glory--the coaches who care about their guys, who want them to graduate and thrive; the players for whom football may be the only salvation; the college presidents who make difficult decisions, knowing that the sport's revenue benefits more than football.
This engrossing book is a fittingly hard-hitting account of money, cheating, pain and often inspiration. --Marilyn Dahl, editor, Shelf Awareness for Readers