The World's Strongest Librarian: A Memoir of Tourette's, Faith, Strength, and the Power of Family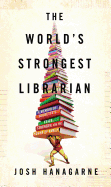 Josh Hanagarne, a 6'7" gentle giant who tears phone books for fun, tends to catch the eye (or ear) at his job at the Salt Lake City Public Library, even when his Tourette Syndrome is not acting up. His memoir explores these contradictions and oddities, in his remarkable journey from idyllic childhood to painfully jerky young adulthood to a contented family and work life.
The adult who relates his story is happy and stable, working full-time at the library, but his journey through years of battling Tourette's and depression has been arduous. As he relates his stranger-than-fiction story, he intersperses anecdotes from a workplace rife with strange and occasionally smelly patrons and events. He muses eloquently about the role of libraries in society, and their future possibilities. While always circling back to libraries and to books--as he struggles with his Mormon faith and faces myriad life challenges--central to Josh's story is his love of family. From his loving parents and exceptionally close siblings through the clear delight Josh finds in marriage and fatherhood, he stresses the inestimable gift of a loving family.
Josh's memoir is thoughtful, heartfelt, often hilarious and unsparingly honest. The younger Josh was unsure and unstable, the older Josh is more comfortable in his own skin. But both have tics--and stories to tell. --Julia Jenkins, librarian and blogger at pagesofjulia