Truth in Advertising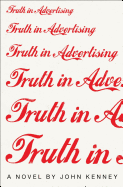 A debut novel with a sharp bite and a sweet soul, John Kenney's Truth in Advertising has a lot to say about pop and corporate culture, work environments, friendship and family. Kenney has an eye (and an ear) for both the sublime and the ridiculous, effortlessly combining satire and domestic drama, but he never sacrifices humor in the service of emotion.
Finbar Dolan is an almost-40 adman who's been put in charge of Snugglies, his company's big diaper account. With a wit sharp enough to split a falling hair, Fin has no illusions about the sometimes ludicrous nature of his work, where a narrative may not have any relationship to the truth. Fin has concocted his own narrative--a defining story that fits who he thinks he should be--unfortunately, this story is as thin and weightless as his ad campaign. He is desperately lonely, secretly in love with his coworker Phoebe and haunted by memories of his tragic childhood.
An honest and insightful novel about a business and a life that have both been anything but, Truth in Advertising is a wonderfully entertaining and elegantly written first novel from an author who will surely find a large and appreciative audience. --Debra Ginsberg, author