What the Heart Knows: Chants, Charms and Blessings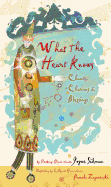 These 29 poems from the duo behind Red Sings from Treetops touch upon life's heartaches and triumphs, quandaries and epiphanies.
Divided into four sections, the collection begins with "Chants and Charms," and the poem "Chant to Repair a Friendship," with a haunting refrain: "Come, friend, forgive the past;/ I was wrong and I am grieving." The poem hinges on a phrase at its center: "Anger's brief, but love is vast." Zagarenski's reassuring illustration depicts one friend precariously balanced upon a wheel as the other reaches out a steadying hand. "Time Spells" picks up the theme again, as Sidman exposes time's schizophrenic characteristics--pining for acceleration ("God of Time,/ bring forth all galloping things") and then to brake and "stretch like a sleepy dog" when in the company of friends. As she offers advice on "How to Find a Poem" ("Wake with a dream-filled head/.../ stand waiting/ on delicate hooves"), Zagarenski softly blends real and surreal earthtoned images of an elusive deer and its observer.
The volume makes an ideal companion for the transition into adulthood, when young people may experience the paradox of a connection to their inner convictions as well as an alienation from their physical metamorphosis. --Jennifer M. Brown, children's editor, Shelf Awareness