A Permanent Member of the Family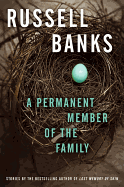 A Permanent Member of the Family is the first story collection from Russell Banks since 2000's The Angel on the Roof. Each of these tales portrays people longing to connect with something, someone, anything--or, as in "Former Marine," to disconnect.

The eponymous story refers to a dog named Sarge, who is not part of the shared custody arrangement worked out between a couple in a divorce. The pair's three girls travel amicably the few blocks between houses; Sarge, however, is supposed to stay with Mom, but travels to Dad's house at will. One day, Dad accidentally runs over Sarge, changing the family's relationships irrevocably.

In "Snowbirds," Isabel prevails upon her husband to spend the winter in Miami Beach. Barely a month later, George drops dead on the tennis court. Isabel is a remarkably merry widow; her first act is to buy a convertible. Her best friend, Jane, flies to be at her side and, watching Isabel's new freedom, begins to question her attachment to her husband.
"Big Dog" starts with the great news that Erik, a writer, has won a MacArthur "genius" grant. The grantors ask him not to mention it to anyone until they have released the news to the press. When he and Ellen join friends for dinner, he tells them. Some of the fallout is predictable; Ellen's reaction is not.

Every story is thematically different; what unites them is Bank's deep insight into people and situations. Just as he masterfully depicts contemporary American life in his novels, especially Continental Drift, Banks's short fiction is relentlessly realistic, never cynical and always attentive to the human condition. --Valerie Ryan, Cannon Beach Book Company, Ore.