Report from the Interior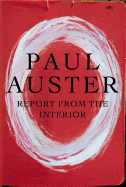 As we learn from the autobiographical impressions of his first 12 years in Report from the Interior, Paul Auster, best known for the epistemological noir New York Trilogy, grew up in South Orange, N.J., as a pretty normal kid, "obedient and well-behaved... [but] by no means a saintly child." This is not, however, your typical memoir. Auster tells his story in the second person and makes little effort to elaborate historical facts and instead writes from his "interior," focusing on moments that made an impact on his intellectual life: his parents' divorce; recognizing that he was Jewish and what that meant; the extraordinary impressions left by three rather diverse movies: The War of the Worlds, The Incredible Shrinking Man and I Am a Fugitive from a Chain Gang. Nearly a third of the memoir is devoted to detailed discussion of how these B-movie stories fueled Auster's life-long sense that an individual's identity can be upended by forces beyond his control.

Auster digresses from his adolescent years to when his first wife, the novelist and translator Lydia Davis, sends hundreds of pages of their correspondence for him to vet before she donates her papers to a library. He annotates these letters--his real first preserved writing--with the older, second-person narrator's memories of the same times. To put a final trademark Auster question mark to it all, he brings Report from the Interior to a close with an album of archival photos and cinema stills. This new, somewhat odd Auster memoir adds another piece to the jigsaw puzzle of one of our greatest writers. --Bruce Jacobs, founding partner, Watermark Books & Cafe, Wichita, Kan.