Last-Minute Gifts
The countdown to December 25 is underway; for the procrastinator, there's still time to find perfect gift books.
For some reason, many people seem to think that last-minute gifts should be small; in order to curb that notion, we'll start with a big book: The Vatican: All the Paintings by Anja Grebe (Black Dog & Leventhal, $75). This is a splendid volume containing old masters (and new, like Gauguin's Crucifixion), maps, tapestries and more in a slipcase with a DVD-ROM.
To go with the reissue of A Charlie Brown Christmas: The Making of a Tradition (It Books, $19.99), put on your Vince Guaraldi CD and sing along to the lovely "Christmas Time Is Here."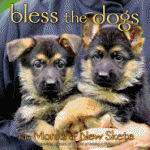 Guys Can Be Cat Ladies Too by Michael Showalter (Abrams Image, $16.95 paperback) is made for the man whose girlfriend/boyfriend loves cats but he, not so much. From sports franchises named after cats to pimping out a cat crib, it's all here. For dog lovers, try Shake by Carli Davidson (Harper Design, $17.99), photographs of dogs' faces mid-shake. Or Bless the Dogs by the Monks of New Skete (Center Street, $20), meditations on the relationship between humans and dogs, with some of the sweetest photos we've seen.
For photos of your own, or to accompany the gift of a camera, try this concise (and almost pocket-sized) guide: Lonely Planet's Best Ever Photography Tips by Richard l'Anson ($9.99). Ten golden rules, like "shoot raw files," and 45 best tips, like "shoot early or late" for the best landscapes, make this practical and handy. For a more in-depth but still unintimidating guide, Workman offers The Unforgettable Photograph by George Lange ($16.95 paperback). Ideas, secrets and even a few playlists to set a mood add up to 228 suggestions, including some terrific ways to display photos. --Marilyn Dahl, editor, Shelf Awareness for Readers