Newton's Football: The Science Behind America's Game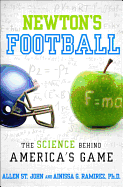 Did you know Vince Lombardi was a high school chemistry and physics teacher before he coached football? His revolutionary "power sweep" offense was based in scientific observation and a mathematical formula on the chalkboard, which led to human bodies overpowering other bodies on the gridiron.
In Newton's Football, Allen St. John (The Billion Dollar Game) and Ainessa Ramirez (Save Our Science) use chaos theory and other heady principles to demonstrate with great verve how modern science can lead to a more thorough understanding of the country's most popular game. They pack their concise, well-written chapters with football lore and unobtrusive yet illuminating scientific insights on subjects such as the relative feasability of the Wonderlic cognitive ability test to rate football intelligence, the truth about the efficacy of performance-enhancing drugs and how improving helmet design has unintentionally made the game more dangerous.
Football is easily mythologized and the cult of machismo often rules, but St. John and Ramirez's approach is more in line with the way most good football teams are run these days. The pair are endlessly creative in the subjects they choose to elucidate their theories, making Newton's Football an addictive and effortless read for any fan of the game or armchair scientist. --Donald Powell, freelance writer