Now in Paper: December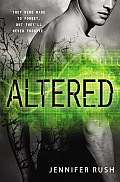 Altered by Jennifer Rush (Little, Brown Books for Young Readers, $10, ages 12-up)
A debut thriller about four genetically altered boys who can't trust themselves after their minds are wiped.
Bowl of Heaven by Gregory Benford and Larry Niven (Tor, $8.99)
Two masters of hard science fiction team up for a story of exploration and alien encounter across the vastness of space.
The Doctor of Thessaly by Anne Zouroudi (Back Bay, $15)
A satisfying mystery set in a fictional Greek village, as Anne Zouroudi continues the arc of her Seven Deadly Sins series.
Between Heaven and Here by Susan Straight (McSweeney's, $15)
The effects of loss on a family with deep and tangled roots in a California desert town.
The Light of Amsterdam by David Park (Bloomsbury, $16)
A weekend in Amsterdam, rendered sensitively and with great insight, brings new understanding and perspective to three families.
Little Wolves by Thomas Maltman (Soho Press, $15)
A literary murder mystery blended with a nuanced story of small-town Midwest family legacies and secrets.
Me and the Devil by Nick Tosches (Back Bay Books, $17)
By turns profane, obscene, perhaps even blasphemous, Tosches offers a fictional account of "the most diabolically f*¢&ed-up year of my life."
The Midwife's Tale by Sam Thomas (Minotaur)
In 1644 England an intrepid midwife is determined to keep her friend from burning at the stake for her husband's murder.
A Possible Life by Sebastian Faulks (Picador, $16)
Faulks (Birdsong) writes of five people and five different historical times in five disparate stories, subtly related thematically by the concept of "connection."
The Rapture of the Nerds by Cory Doctorow and Charles Stross (Tor, $14.99)
Two of contemporary science fiction's leading stars team up to tell the hilarious misadventures of a technophobe in a post-Singularity future.
Spilt Milk by by Chico Buarque, trans. by Alison Entrekin (Grove, $15)
A brilliant comic monologue in which a hospitalized centenarian curmudgeon on morphine becomes entangled in his own deception-filled life story.
Encyclopedia Paranoiaca by Henry Beard and Christopher Cerf (Simon & Schuster, $15)
A reference guide to threats both obvious (volcanoes) and obscure (purses) that will enlighten the paranoid and confident alike.