Raw: A Love Story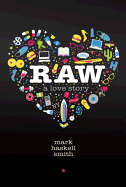 Readers familiar with Mark Haskell Smith's novels know all about the sharp, oddball sense of humor that permeates Raw. For those who don't, think along the lines of Carl Hiaasen--social commentary combined with outrageous laughs.
Reality TV star Sepp Gregory didn't actually write his debut novel, Totally Reality--he hasn't even read it--but "he looked amazing on the cover and his name was the same size as the book's name, so like, how cool is that?" Despite the fun of meeting his legions of adoring (primarily female) fans, Sepp has found readjusting to the real world more difficult than he anticipated.
Book blogger Harriet Post laments the raves lavished on Sepp's book; worse, after reading it, she has to admit it really is a masterpiece. Meeting Sepp on tour, she realizes he doesn't have the talent--or even the vocabulary--to write great prose, so she embarks on a crusade to find the ghostwriter, write a scathing exposé on the publishing industry and single-handedly halt the decline of civilization as we know it, although her friends think maybe she should try to get a social life instead. When Harriet meets a cute hipster novelist, it seems having a life might win out, but when she finds out he's Sepp's ghostwriter, a shocking accident throws a wrench in her plans and unites her with Sepp in ways she never imagined possible.
Reader are sure to cackle like crazy at this brash and brainy slice of satire that skewers our base and high-minded interests in one fell swoop. --Jaclyn Fulwood, youth services manager at Latah County Library District and blogger at Infinite Reads