Sophie Scott Goes South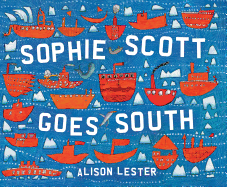 From the opening endpapers of Sophie's journey on a Robinson Projection ("Scale 1: 134 million") to the closing endpapers that map the Antarctic, this picture book brims with fascinating facts in a conversational style that will captivate readers.
In 2005, author and artist Alison Lester traveled for six weeks as an Australian Antarctic Arts Fellow. She translates her trip through the eyes of nine-year-old narrator Sophie Scott, whose father is captain of the Aurora Australis (the ship Lester sailed on her own trip). Sophie gets in all the details children crave: "My bunk is called a berth, the window is a porthole, the kitchen is the galley and the dining room is the mess." A mechanical drawing of the ship shows more official labels ("tweendeck hold"; "fuel overflow"), while handlettering points out the spots important to Sophie. Her descriptions give children a flavor of her experiences in terms they'll understand, as when they hit a rough patch and the dining-room portholes get submerged: "It's like we're eating inside a washing machine." She also mentions the diverse missions of the ship, from carrying supplies to Antarctica to retrieving an underwater microphone for scientists who'd deposited it a year earlier to record whale communications.
The book's design gracefully accommodates dramatic photographs of the Antarctic, illustrations by children in collage, marker and watercolor (created in response to Lester's e-mail updates to schools and families), and Lester's own artwork. Sophie's handwritten text distinguishes her amusing asides from the typeset narrative. --Jennifer M. Brown, children's editor, Shelf Awareness